Blog
Nutrition
Showing 1 to 1 of 18 posts.
Posted on April 29th, 2019 in Nutrition by Crossfit Volentia Coaches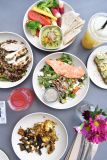 Public service announcement
Before we start I need to get this off my chest, mainly because it can be common for people to choose 'weight loss' as a goal without considering everything involved.
There is a big difference between weight loss & fat loss.