Blog
Showing 31 to 31 of 31 posts.
Posted on December 6th, 2017 in Motivation by Crossfit Volentia Coaches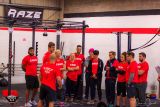 But should it be?
So..here's the scenario.
It's 6.30pm, you've just left work-a bit later than you'd hoped to but that's just the way it goes sometimes isn't it…you're stuck in traffic and it's looking likely you'll now miss the 8pm class you booked yourself into. Ah..Not to worry, there's an 06.30am class tomorrow, you don't really like morning training but you're sure you'll get there..you'll book in to that and train in the morning instead.