We asked Joel to talk to us about his CrossFit journey and his passion for Olympic weightlifting.
'I started my fitness career back in 2009 where I started working for the De Montfort University Leisure Centre. I was studying at the time to be a Personal Trainer and wanted to begin working within the industry whilst I was studying.
It was the usual bits that need doing within a gym, cleaning and tidying up after people, but it also allowed me to gain real life experiences putting into practice what I was learning through my course. Delivering small group inductions and starting to incorporate some of the more advanced training systems for developing a person's conditioning and strength.
I got my first Personal Trainer position in 2010. This is where I really started to develop the bug for instructing human movement. My main sport at the time was Brazilian Jiu Jitsu, a highly technical sport where the little details make huge differences to your success, I noticed the similarities of this when it comes to training. Focusing on technique and form were always at the forefront of my coaching.
I always used the phrase "If you want to look like an athlete, train like one" with my clients, as it was usually their inspiration. Over the years I developed my training system, utilising various weightlifting movements to gain strength and muscle mass, whilst still realising the importance of bodyweight training as well as keeping an emphasis on cardiovascular fitness.
It was around this time that I started to see videos of a new sport creeping in. The sport was called CrossFit, it could be competed in and be done in the forms of a fitness class. It seemed to incorporate all the elements of training I enjoyed and valued within my own training, as well as some fun new bits too.
After a few months of seeing these clips floating around I decided to find out how to get involved with it, and the rest is history.
The main driving force behind getting involved in CrossFit was the fact that they used Olympic Weightlifting within their training methods, something that I had been training for a year or so, and at the time had very low popularity. It was almost like a secret, very few places coached them, and you'd never see anyone training them in your standard gym. The first 2 years of my CrossFit journey I focussed mainly on weightlifting. Really trying to nail the techniques and timings of the Snatch and Clean + Jerk whilst continuing to develop general strength with your more typical movements such as the Squat and Deadlift.
The Snatch became my favourite lift, it was more technical and showier which are always elements to things I tend to favour more. Nothing looks better than a beautifully executed Snatch. Still at nearly 30 years old I can't help but chuckle at the child like humour it creates talking about the lift, it's a constant gold mine. It's my enjoyment of these movements myself that's the reason I like coaching them so much. If you love doing something, then it makes bringing it into someone else life just as satisfying. Not only that, but because they are so technical, helping someone to understand them and to nail their first proper lift is always a moment I take particular gratification from.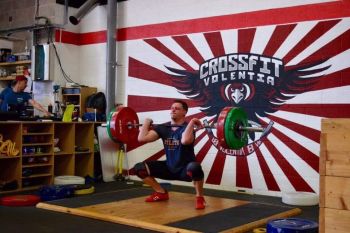 If I were to offer any advice to someone looking to begin training in Olympic Weightlifting it would be to have some general weightlifting experience beforehand. Squats, Deadlifts, training with barbells etc. I am not saying you need to be strong to do them, just to have some general movement competence within training with weights as well as your body having had some exposure to training with them also. If you've got that then you're good to go. I'd start with spending a bit of time getting used to the Front Squat and the Overhead Squat. Taking the time to develop some strength and mobility in these areas with pay off no end when you take the next steps which I suggest being the Clean/Snatch Pull and the Hang Power Clean/Snatch.
Both exercises will help you develop understanding of the timings and the various aspects of these lifts, in a slightly less technical fashion. These partial lifts take away many of the hurdles involved when doing the lift in its entirety, whilst still highlighting the important skills needed to master these challenging lifts'.
If you'd like to try CrossFit or Olympic Weightlifting we are starting a new course of beginners classes so head over to our 'contact us' page and send us a message.
Joel is a PT as well as a CrossFit coach. You can follow him on Instagram @crossfit_volentia and @herculeanfitness.